I am on vacation through September 29th
September 21, 2018
Friday Forecast Details
Forecast: Increasing clouds.  A chance of scattered showers and thunderstorms.  A few storms could produce high wind conditions.  Clouds and precipitation will help keep temperatures down a bit.
Temperatures: MO ~ 84 to 88     IL ~ 84 to 86     KY ~ 84 to 88     TN ~ 85 to 90
What is the chance of precipitation? MO ~ 50% to 60%     IL ~ 50% to 60%     KY ~ 50% to 60%     TN ~ 50% to 60%
Coverage of precipitation: Scattered to perhaps becoming numerous
Wind: South and southwest winds at 5 to 10 mph with gusts to 16 mph
What impacts are anticipated from the weather?  Wet roadways.  Lightning.
My confidence in the forecast verifying: Medium
Is severe weather expected?  A few storms could produce strong winds.
The NWS defines severe weather as 58 mph wind or great, 1″ hail or larger, and/or tornadoes
Should I cancel my outdoor plans? Check radars.  There will be rain in the region.
UV Index: 4 to 6 Medium
Sunrise: 6:42 AM
Friday Night Forecast Details:
Forecast: Mostly cloudy. Showers and thunderstorms likely.
Temperatures: MO ~ 56 to 62     IL ~ 56 to 62     KY ~ 60 to 64     TN ~ 60 to 64
What is the chance of precipitation? MO ~ 50% to 60%     IL ~ 50% to 60%     KY ~ 60% to 70%     TN ~ 60% to 70%
Coverage of precipitation: Scattered to perhaps numerous
Wind: Wind becoming north and northeast at 8 to 16 mph
What impacts are anticipated from the weather? Wet roadways. Lightning.
My confidence in the forecast verifying: Medium
Is severe weather expected? A few evening storms with strong winds
The NWS defines severe weather as 58 mph wind or great, 1″ hail or larger, and/or tornadoes
Should I cancel my outdoor plans? Have a plan B and monitor updates
Sunset: 6:54 PM
Moonrise: 5:25 PM Waxing Gibbous
Moonset: 3:14 AM
September 22, 2018
Saturday Forecast Details
Forecast: Mostly cloudy.  A chance of showers and perhaps a few thunderstorms.  Clouds will help keep temperatures down.
Temperatures: MO ~ 64 to 68     IL ~ 64 to 68     KY ~ 64 to 68     TN ~ 64 to 686
What is the chance of precipitation? MO ~ 100%     IL ~ 100%    KY ~ 100%    TN ~ 100%
Coverage of precipitation: Widespread
Wind: North and northeast at 6 to 12 mph with gusts 18 mph
What impacts are anticipated from the weather?  Wet roadways and lightning.
My confidence in the forecast verifying: Medium
Is severe weather expected? Unlikely
The NWS defines severe weather as 58 mph wind or great, 1″ hail or larger, and/or tornadoes
Should I cancel my outdoor plans? Have a plan B and monitor updates
UV Index: 2 to 3 Low
Sunrise: 6:43 AM
Saturday Night Forecast Details:
Forecast: Mostly cloudy.   Showers again possible.   Cooler.
Temperatures: MO ~ 55 to 60     IL ~ 55 to 60     KY ~ 58 to 62     TN ~ 60 to 64
What is the chance of precipitation? MO ~ 60%     IL ~ 60%     KY ~ 60%    TN ~ 60%
Coverage of precipitation: Scattered to perhaps numerous
Wind: East and northeast at 5 to 10 mph
What impacts are anticipated from the weather? Wet roadways. Lightning.
My confidence in the forecast verifying: Medium
Is severe weather expected? No
The NWS defines severe weather as 58 mph wind or great, 1″ hail or larger, and/or tornadoes
Should I cancel my outdoor plans? Have a plan B and monitor updates
Sunset: 6:52 PM
Moonrise: 5:55 PM Waxing Gibbous
Moonset: 4:14 AM
September 23, 2018
Sunday Forecast Details
Forecast: Mostly cloudy.  Scattered showers.  Cooler.
Temperatures: MO ~ 72 to 76     IL ~ 72 to 76     KY ~ 72 to 76     TN ~ 72 to 76
What is the chance of precipitation? MO ~ 30% to 40%     IL ~ 30% to 40%     KY ~ 50% to 60%     TN ~ 50% to 60%
Coverage of precipitation: Scattered
Wind: Northeast at 5 to 10 mph
What impacts are anticipated from the weather? Wet roadways.  Low chance of lightning.
My confidence in the forecast verifying: Medium
Is severe weather expected? Unlikely
The NWS defines severe weather as 58 mph wind or great, 1″ hail or larger, and/or tornadoes
Should I cancel my outdoor plans? Have a plan B and monitor updates
UV Index: 3 to 5 Low to medium
Sunrise: 6:44 AM
Sunday Night Forecast Details:
Forecast: Mostly cloudy. A few showers again possible.  Cool.
Temperatures: MO ~ 58 to 64    IL ~ 58 to 64     KY ~ 58 to 64      TN ~ 58 to 64
What is the chance of precipitation? MO ~ 30% to 40%     IL ~ 30% to 40%     KY ~ 30% to 40%     TN ~ 30% to 40%
Coverage of precipitation: Scattered
Wind: East and northeast at 5 to 10 mph
What impacts are anticipated from the weather? Wet roadways. Low chance of lightning.
My confidence in the forecast verifying: Medium
Is severe weather expected? Unlikely
The NWS defines severe weather as 58 mph wind or great, 1″ hail or larger, and/or tornadoes
Should I cancel my outdoor plans? Have a plan B and monitor updates
Sunset: 6:51 PM
Moonrise: 6:30 PM Waxing Gibbous
Moonset: 5:08 AM
September 24, 2018
Monday Forecast Details
Forecast: Partly to mostly cloudy. A chance of scattered showers.  Thunderstorms possible.
Temperatures: MO ~ 75 to 80     IL ~ 75 to 80     KY ~ 75 to 80     TN ~ 75 to 80
What is the chance of precipitation? MO ~ 40% to 50%     IL ~ 40% to 50%     KY ~ 40% to 50%      TN ~ 40% to 50%
Coverage of precipitation: Scattered to perhaps numerous
Wind: East and southeast at 5 to 10 mph with gusts to 14 mph
What impacts are anticipated from the weather? Wet roadways and lightning.
My confidence in the forecast verifying: Medium
Is severe weather expected?  Monitor updates.  A few strong storms are possible.
The NWS defines severe weather as 58 mph wind or great, 1″ hail or larger, and/or tornadoes
Should I cancel my outdoor plans? No, but monitor updates
UV Index: 6 to 8 Medium to high
Sunrise: 6:45 AM
Monday Night Forecast Details:
Forecast:Mostly cloudy.  A chance of a shower or thunderstorm.
Temperatures: MO ~ 65 to 70     IL ~ 65 to 70     KY ~ 65 to 70     TN ~ 65 to 70
What is the chance of precipitation? MO ~ 40%     IL ~ 40%     KY ~ 40%     TN ~ 40%
Coverage of precipitation: Scattered
Wind: South and southeast at 5 to 10 mph
What impacts are anticipated from the weather? Wet roadways.  Low end risk of lightning.
My confidence in the forecast verifying: LOW
Is severe weather expected? Monitor updates.  A few strong storms are possible.
The NWS defines severe weather as 58 mph wind or great, 1″ hail or larger, and/or tornadoes
Should I cancel my outdoor plans? No, but monitor updates
Sunset: 6:49 PM
Moonrise: 7:00 PM Full
Moonset: 6:06 AM
September 25, 2018
Tuesday Forecast Details
Forecast: Mostly cloudy.  A chance of showers and thunderstorms.
Temperatures: MO ~ 78 to 82     IL ~ 78 to 82     KY ~ 78 to 84     TN ~ 78 to 84
What is the chance of precipitation? MO ~ 50% to 60%     IL ~ 50% to 60%     KY ~ 50% to 60%     TN ~ 50% to 60%
Coverage of precipitation: Scattered
Wind: South and southwest at 5 to 10 mph with gusts to 12 mph
What impacts are anticipated from the weather? Wet roadways. Perhaps some lightning.
My confidence in the forecast verifying: LOW
Is severe weather expected?  Monitor updates.  A few strong storms are possible.
The NWS defines severe weather as 58 mph wind or great, 1″ hail or larger, and/or tornadoes
Should I cancel my outdoor plans? Have a plan B and monitor updates
UV Index: 3 to 5 Low to medium
Sunrise: 6:46 AM
Tuesday Night Forecast Details:
Forecast: Mostly cloudy.  Showers likely.  A thunderstorm possible.
Temperatures: MO ~ 58 to 64     IL ~ 58 to 64     KY ~ 58 to 64     TN ~ 58 to 64
What is the chance of precipitation? MO ~ 50%     IL ~ 50%     KY ~ 50% to 60%     TN ~ 50% to 60%
Coverage of precipitation: Scattered to perhaps numerous
Wind: Southwest to west at 6 to 12 mph.  Winds may become northwest overnight.
What impacts are anticipated from the weather? Wet roadways.  Perhaps lightning.
My confidence in the forecast verifying: Medium
Is severe weather expected? No
The NWS defines severe weather as 58 mph wind or great, 1″ hail or larger, and/or tornadoes
Should I cancel my outdoor plans? Have a plan B and monitor updates
Sunset: 6:47 PM
Moonrise: 7:30 PM Waning Gibbous
Moonset: 7:05 AM
September 26, 2018
Wednesday Forecast Details
Forecast: Mostly cloudy.  A chance of a few showers.  Cooler.
Temperatures: MO ~ 72 to 78     IL ~ 72 to 76     KY ~ 74 to 78     TN ~ 74 to 78
What is the chance of precipitation? MO ~ 30%     IL ~ 30%     KY ~ 30%     TN ~ 30%
Coverage of precipitation: Scattered
Wind: North at 6 to 12 mph
What impacts are anticipated from the weather?  Wet roadways.
My confidence in the forecast verifying: LOW
Is severe weather expected?  No
The NWS defines severe weather as 58 mph wind or great, 1″ hail or larger, and/or tornadoes
Should I cancel my outdoor plans? No, but monitor updates
UV Index: 7 to 9 High
Sunrise: 6:47 AM
Wednesday Night Forecast Details:
Forecast: Clearing.  Any remaining showers will have ended.  Patchy dense fog possible.  Cooler.
Temperatures: MO ~ 54 to 58     IL ~ 54 to 58      KY ~  54 to 58     TN ~ 54 to 58
What is the chance of precipitation? MO ~ 10%     IL ~ 10%     KY ~ 10%     TN ~ 10%
Coverage of precipitation:  Most likely none
Wind:  North at 5 to 10 mph
What impacts are anticipated from the weather?  Perhaps some dense fog with lower visibility
My confidence in the forecast verifying: LOW
Is severe weather expected?  No
The NWS defines severe weather as 58 mph wind or great, 1″ hail or larger, and/or tornadoes
Should I cancel my outdoor plans? No
Sunset: 6:46 PM
Moonrise: 8:02 PM Waning Gibbous
Moonset: 8:05 AM
Learn more about the UV index readings. Click here.

Here is the latest WPC/NOAA rainfall outlook.
This graphic takes us through next Friday morning.
Most of this falls between now and Tuesday night.
The WPC/NOAA does have heavy rain between now and then.  They have some areas receiving more than five inches.
Part of this will depend on a cold front this weekend stalling in or near the region.  If the front pushes far enough south then rain chances will temporarily diminish.
There remain questions concerning that portion of the forecast.
Click to enlarge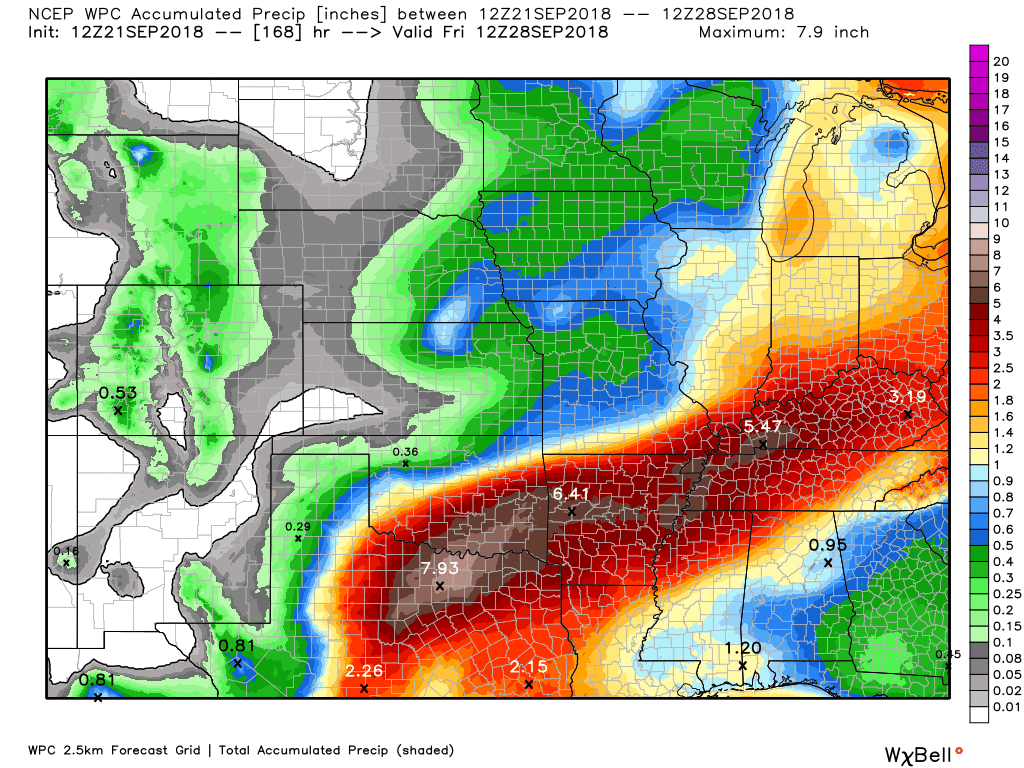 Southeast Missouri and southern Illinois zoom view.  Again, this is the seven day rainfall forecast from the WPC/NOAA.
Take the general idea from this graphic that some locally heavy rain is possible over the coming seven days.
A portion of this will be highly dependent on the placement of a stationary front this weekend.
Click to enlarge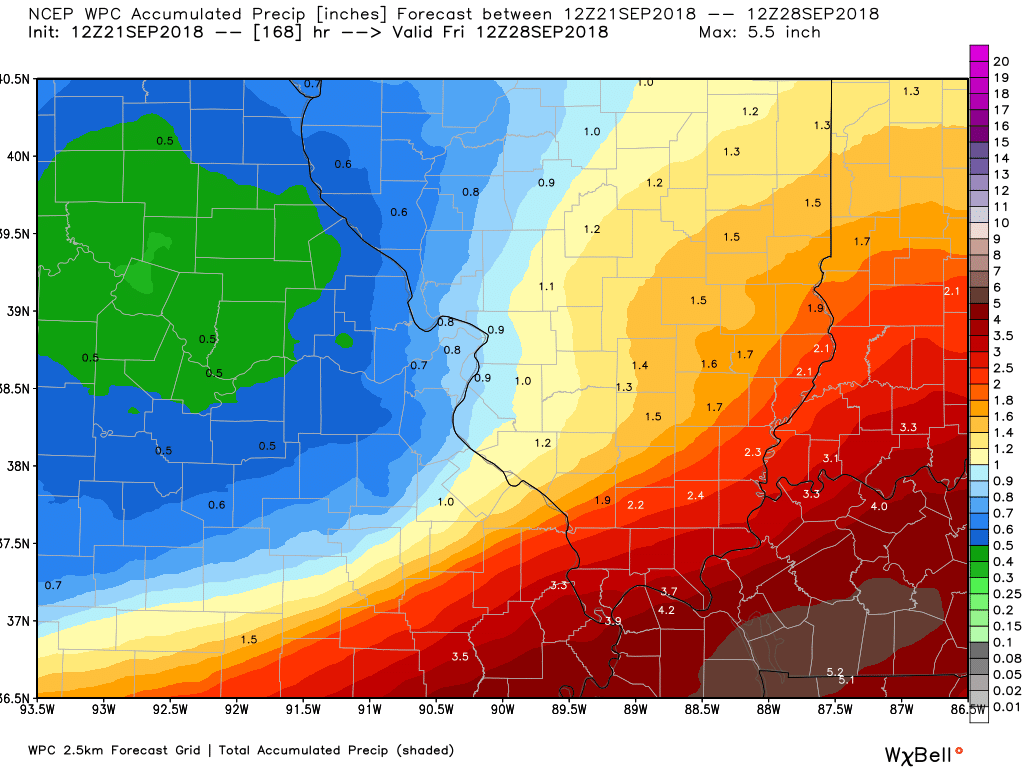 Zoomed in over Kentucky and Tennessee
Again, notice that WPC/NOAA have some very heavy rain in the region.  This will need to be monitored.
Click to enlarge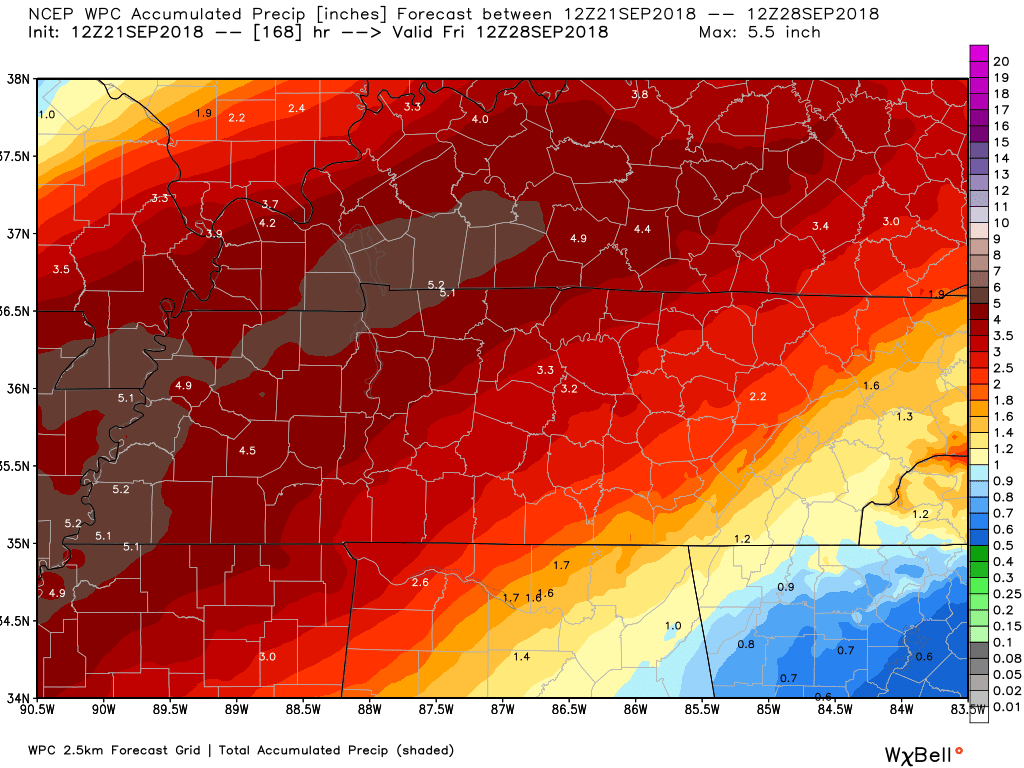 The GFS model guidance rainfall forecast through 1 pm Tuesday
Click to enlarge the image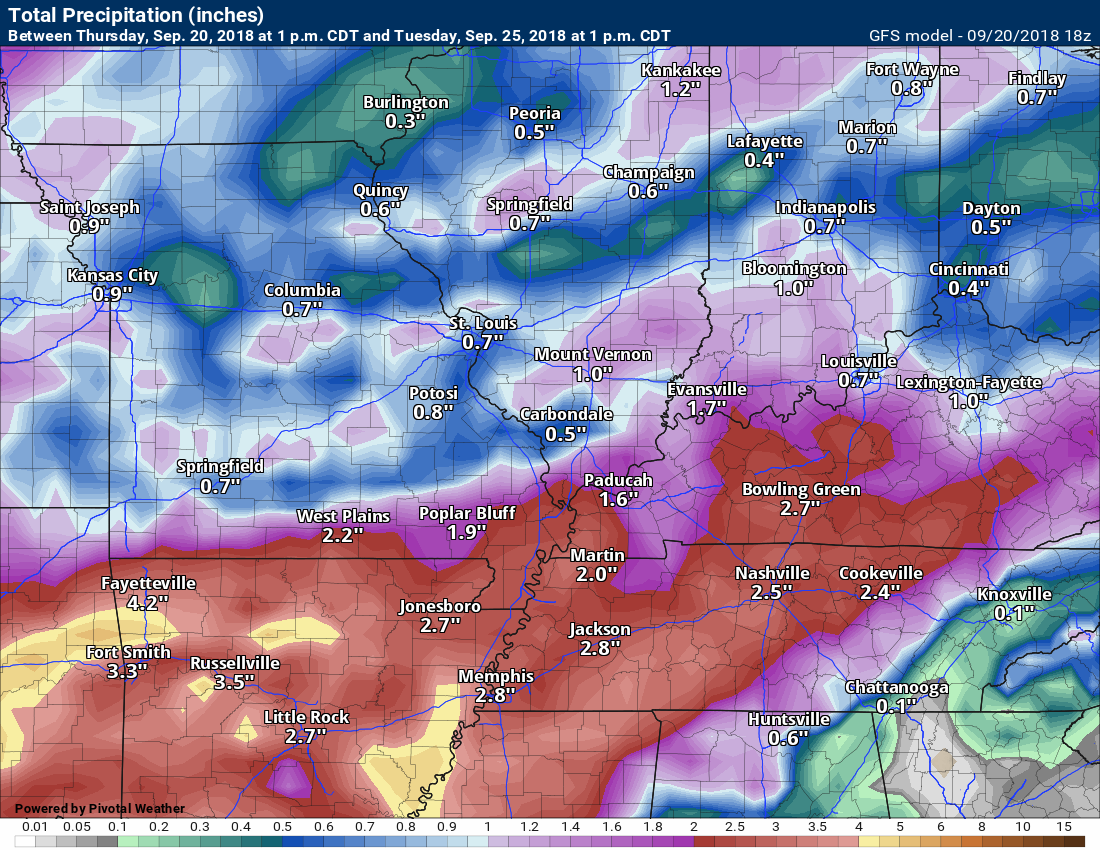 The Canadian model now through 1 pm Tuesday
Again, notice there are some areas with heavier rain vs other areas. The Canadian model even showers portions of southern Illinois receiving less than 0.25″.
Click to enlarge the image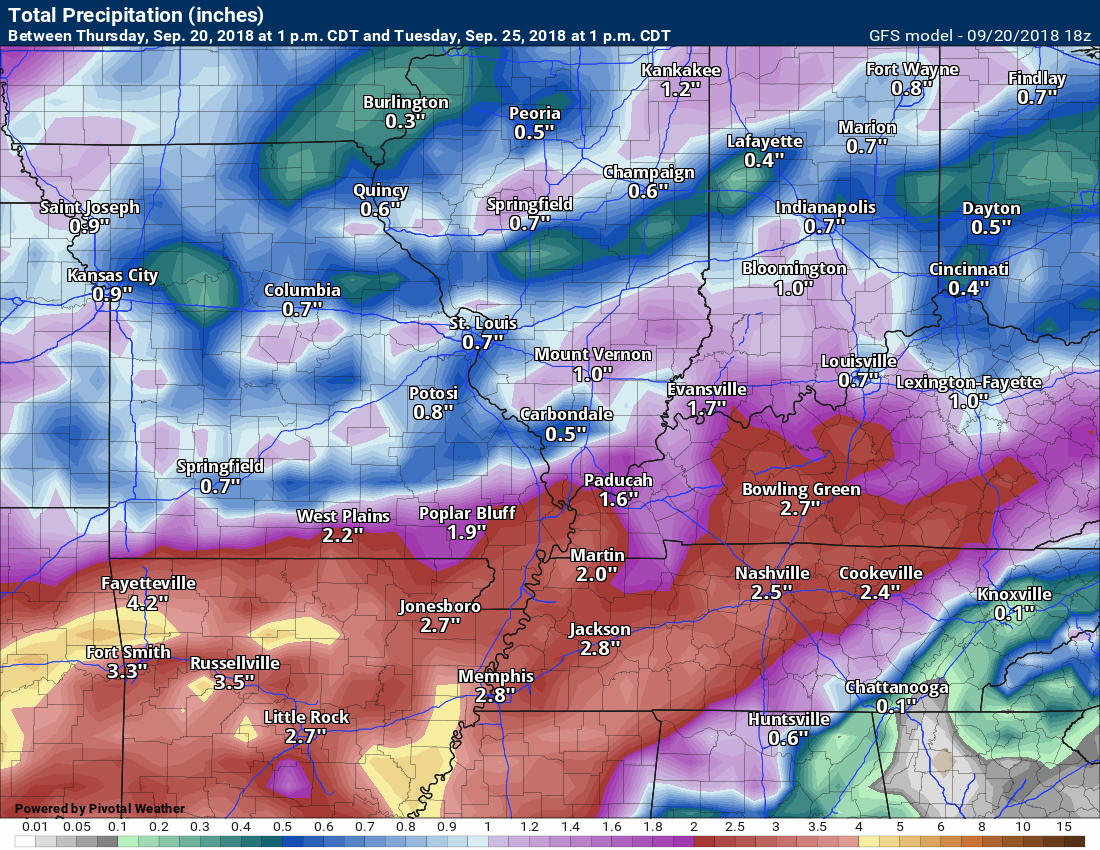 This next image is the NAM model guidance
These totals are through 1 pm Sunday.
It is not a slam-dunk forecast when it comes to precipitation totals.
Click to enlarge the image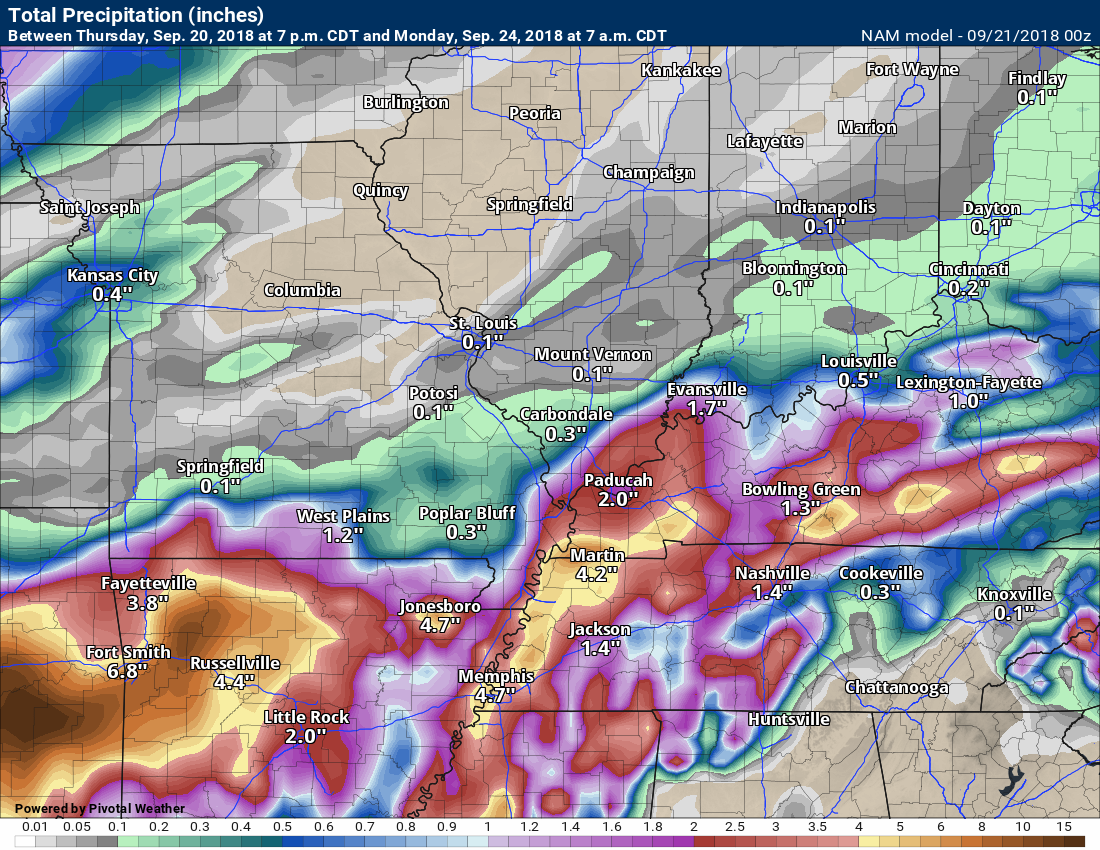 The EC model guidance also shows some locally heavy rain totals. This is through Tuesday evening.
Click to enlarge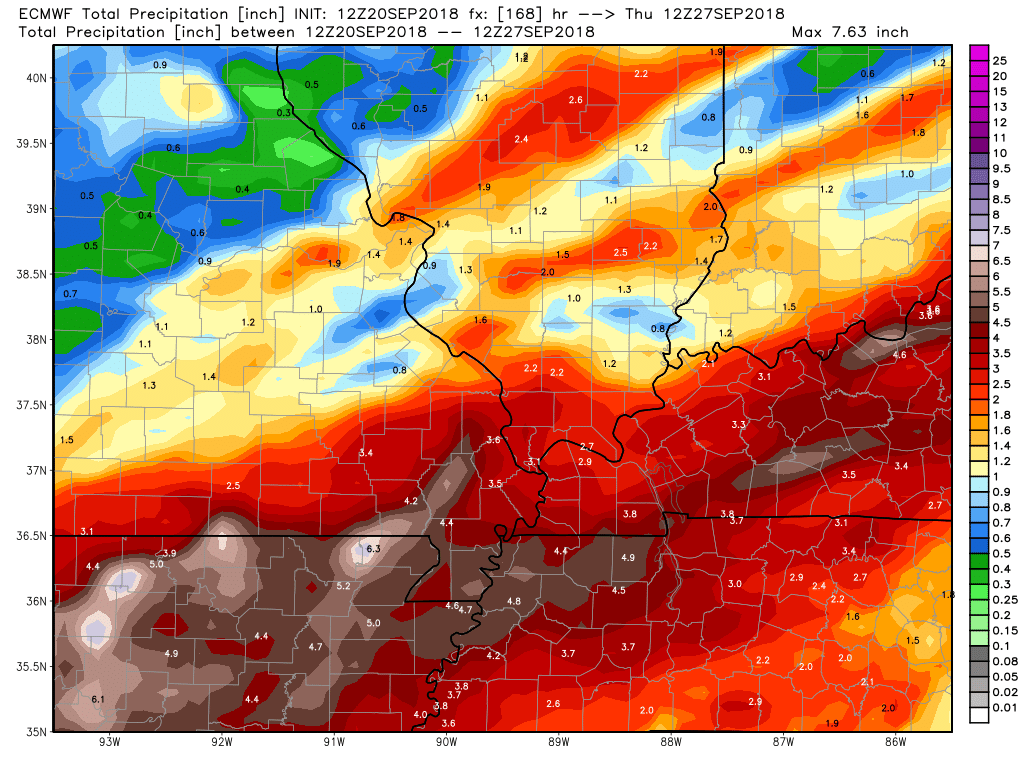 We offer interactive local city live radars and regional radars.
If a radar does not update then try another one. If a radar does not appear to be refreshing then hit Ctrl F5 on your keyboard.
You may also try restarting your browser. The local city view radars also have clickable warnings.
During the winter months, you can track snow and ice by clicking the winterize button on the local city view interactive radars.

Questions? Broken links? Other questions?
You may email me at beaudodson@usawx.com

The National Weather Service defines a severe thunderstorm as one that produces quarter size hail or larger, 58 mph winds or greater, and/or a tornado.
Today through Tuesday: Thunderstorm chances increase today into the weekend. At this time, it appears the risk of severe thunderstorms will be fairly low. Perhaps not zero.
A couple of storms could produce strong and gusty winds.   Damaging wind conditions are considered to be 58 mph.  That is the definition of a severe thunderstorm.  There could be a few of those this afternoon and evening.
There will be a chance of showers and thunderstorms into early next week.
Locally heavy rain and lightning will be the main concern into the middle of next week.

Interactive live weather radar page. Choose the city nearest your location. If one of the cities does not work then try a nearby one. Click here.
National map of weather watches and warnings. Click here.
Storm Prediction Center. Click here.
Weather Prediction Center. Click here.

Live lightning data: Click here.

Interactive GOES R satellite. Track clouds. Click here.

Here are the latest local river stage forecast numbers Click Here.
Here are the latest lake stage forecast numbers for Kentucky Lake and Lake Barkley Click Here.

Here comes the rain and cooler weather.
Locally heavy rain possible.
Some question on placement and timing of the greatest rain chances.
Cool weather all of next week.  Autumn pattern.
I am on vacation until September 29th
Cooler weather is on the way.
A big weather pattern change is about to occur.  An autumn pattern.
We have experienced a string of 90's over the past week. As a matter of fact, we have reach 90 degrees or above since September 13th!
Paducah, Kentucky, broke their record high on Thursday afternoon. A high of 97 degrees was reached at the National Weather Service.
Since the first of September, Paducah, Kentucky, has reached 90 degrees or above a total of fourteen days! That is quite amazing.
For comparison, August delivered sixteen days of 90 degrees and above.
It appears our weather pattern is about to change. An autumn pattern is developing.
We will have on and off rain chances Friday into at least Tuesday. It won't rain all the time, but we will have periods of rain.
The clouds and precipitation will help keep temperatures in the 80's Friday and in the 70's Saturday and Sunday.
The forecast is for mostly 70's Monday through at least Sunday of next week. A couple of days could deliver lower 80's for high temperatures, but the 70's will be more common.
We are going to start experiencing overnight lows in the 50's, as well. I can't rule out some upper 40's towards the middle/end of next week.
The strongest cold front should arrive next Thursday and Friday of next week. That front is the one that could deliver lows in the 40's next Friday and Saturday night.
This is a big shift from the pattern over the last few months.
If the forecast verifies, then it will be the longest stretch of high temperatures in the 70's and lower 80's since April.
Hopefully, everyone enjoyed the summer heat.
Rain chances?
We will see increasing rain chances today.  Numerous showers and thunderstorms are expected by this afternoon and evening.  The rain chances will then be with into early next week.
Many of you have outdoor activities this weekend.  I am telling people to have a plan B and then hope for the best.  There will be at least scattered showers and perhaps thunderstorms from today into Tuesday.
There are opportunities for periods of dry weather.   See the daily forecast details at the top of this post.  That gives you some idea on rain chances.
A cold front is moving through the region.  This front should push south of the Kentucky border late tonight into Saturday.  There will be rain ahead and behind the front.
An overrunning rain event is likely to develop over the weekend.  Overrunning occurs when warm air moves up and over a cold front.  This causes precipitation to develop.
The big question is how far south does the front push.  If the front pushes far enough south then the rain chances will diminish from north to south.
Rain totals of 0.50″ to 1.00″ are anticipated today through Tuesday.  Some areas will likely receive more than two inches of rain.  Some of the data even shows three inch amounts.
The coolest air of the season will arrive next Thursday or Friday night.  Most of the data shows overnight lows in the 40's by next weekend.  Count on 50's and let's monitor the chance of 40's.