.
Interactive Weather Radar Page.  Choose the city nearest your location:  
Click this link
Here is the Facebook post I made this morning (for those without Facebook)
September 1, 2017
Note: I have been on a working "Harvey" vacation. I will be out with family a few times today. I am not concerned about severe weather today, but avoid flooded roadways. Some counties have flooding.
Thank you for the reports last night. They were helpful for the NWS in figuring out which radar product was most accurate in measuring the rain.
We need final rain totals tonight. If you are a spotter or general public please post your final totals. If you are a trained spotter, mention that in your comment. Trained means you have been through at least one spotter class from the NWS.
Welcome to meteorological fall. Meteorologists measure the months different than the calendar. September, October, and November is fall.
WET start for some of us.
The forecast is on track for most of the area. We will have to see final rainfall totals this evening/tonight. A widespread 0.50″ to 5″ of rain has fallen. Heaviest totals are from the Bootheel of MO into south central KY.
Portions of southeast MO and southern IL have received almost no rain (but that was the going forecast)
Harvey will stall for a few hours today over Kentucky. Very slow movement east/northeast. That means the rain bands will continue and so will the winds.
The system will exit bit by bit this afternoon and evening. Showers will linger the longest over northwest Kentucky and the Pennyrile area.
Cooler tonight with rain ending. Lows in the 50's. If we would clear out then 40's would be possible.
Dry Saturday, Sunday, and Monday. A 10% thunderstorm chance Monday evening and then increasing rain chances Monday night and especially on Tuesday.
Friday's normal blog post and forecast.
September 1, 2017
I have been on a working Harvey vacation.  I will be with family today and Saturday.  I will post the forecast below.  Dry weather Saturday, Sunday, and Monday.  Enjoy your holiday weekend.
Welcome to meteorological fall.  Meteorologists measure fall as September through November.  I can't believe it is September.
Morning update
We have showers covering much of southeast Illinois, western Kentucky, and portions of western Tennessee.  The rain will be slow to exit.  The system may stall for a few hours today.
The rain will exit from west to east as the day wears on.  A few showers may linger into the evening over our far far eastern counties in Kentucky.  That would include Owensboro and areas south towards Hopkinsville.  All in all, the rain should be ending as we move through the afternoon and into the evening.
Clouds may linger into tonight, as well.  That may keep temperatures in the 50's for lows.  If we were to clear out tonight, then 40's would be possible.
Dry Saturday through Monday.
I am watching Irma.  It is too early to know if Irma will impact the USA.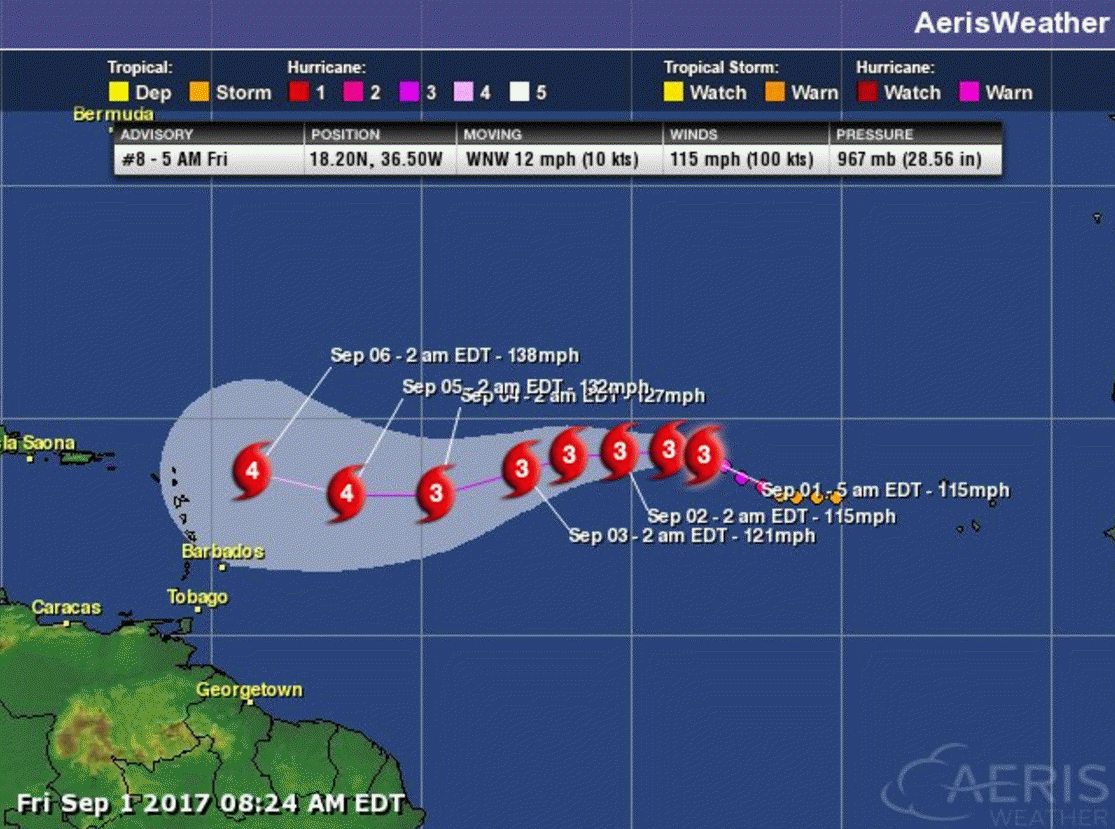 Click image to enlarge