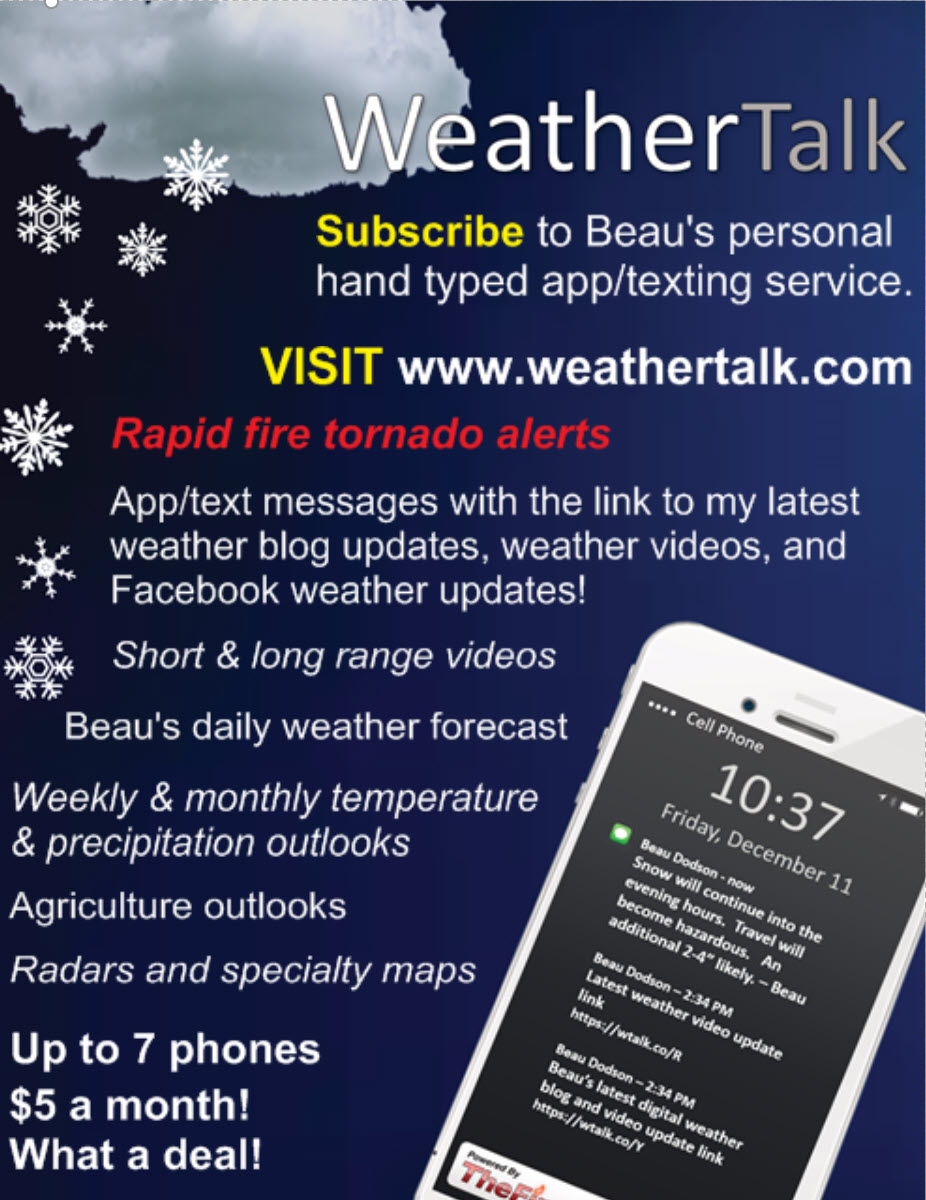 WeatherTalk monthly operating costs can top $2000.00.  Your $5 subscription helps pay for those costs.  I work for you.
The $5 will allow you to register up to seven phones!
For $5 a month you can receive the following.  You may choose to receive these via your WeatherTalk app or regular text messaging.
Severe weather app/text alerts from my keyboard to your app/cell phone.  These are hand typed messages from me to you.   During tornado outbreaks, you will receive numerous app/text messages telling you exactly where the tornado is located.
Daily forecast app/texts from my computer to your app/cell phone.
Social media links sent directly to your app/cell phone.  When I update the blog, videos, or Facebook you will receive the link.
AWARE emails.  These emails keep you well ahead of the storm. They give you several days of lead time before significant weather events.
Direct access to Beau via text and email.  Your very own personal meteorologist.  I work for you!
Missouri and Ohio Valley centered video updates
Long-range weather videos
Week one, two, three and four temperature and precipitation outlooks.
Monthly outlooks.
Your subscription also will help support several local charities.
Would you like to subscribe?  Subscribe at www.beaudodsonweather.com
Typical progression on a severe weather day for subscribers.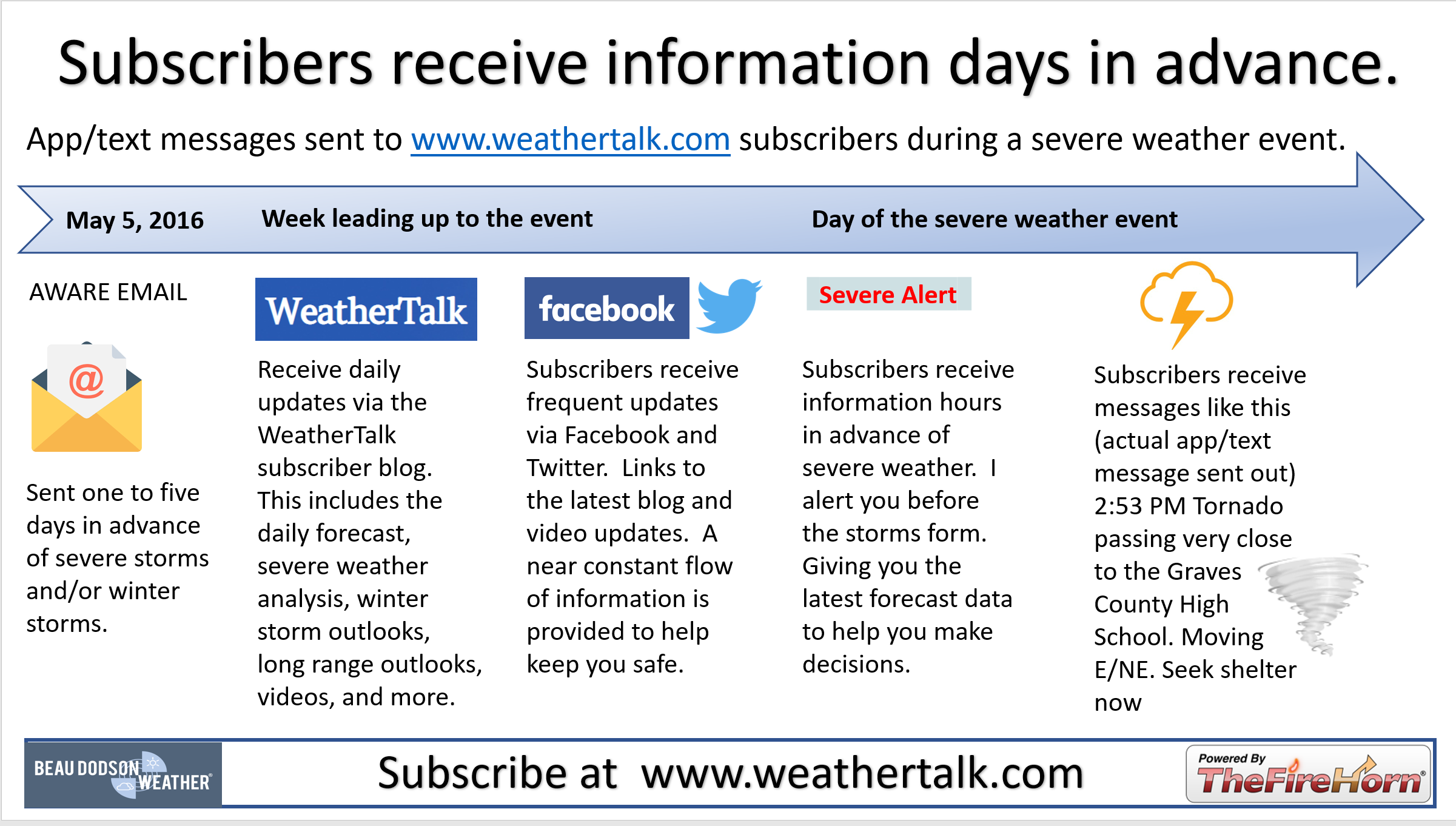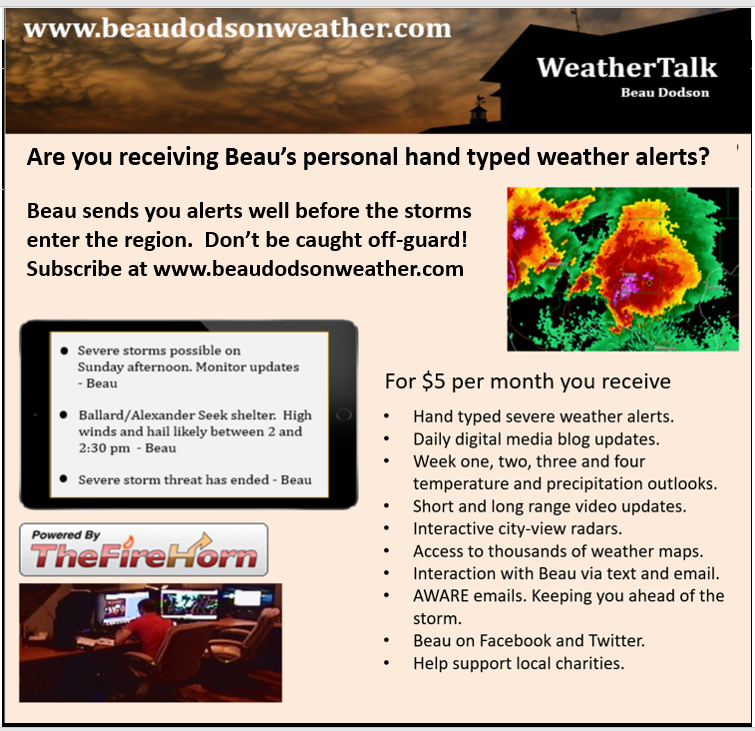 I encourage subscribers to use the app vs regular text messaging.  We have found text messaging to be delayed during severe weather.  The app typically will receive the messages instantly.  I recommend people have three to four methods of receiving their severe weather information.
Remember, my app and text alerts are hand typed and not computer generated.  You are being given my personal attention during significant weather events.

WWW.WEATHERTALK.COM subscribers, here is my day to day schedule for your weather products.
These are bonus videos and maps for subscribers.  I bring these to you from the BAMwx team. I pay them to help with videos.
The Ohio and Missouri Valley videos cover most of our area. They do not have a specific Tennessee Valley forecast but may add one in the future.
The long-range video is technical. Over time, you can learn a lot about meteorology from the long range video. Just keep in mind, it is a bit more technical.