ANNOUNCEMENT!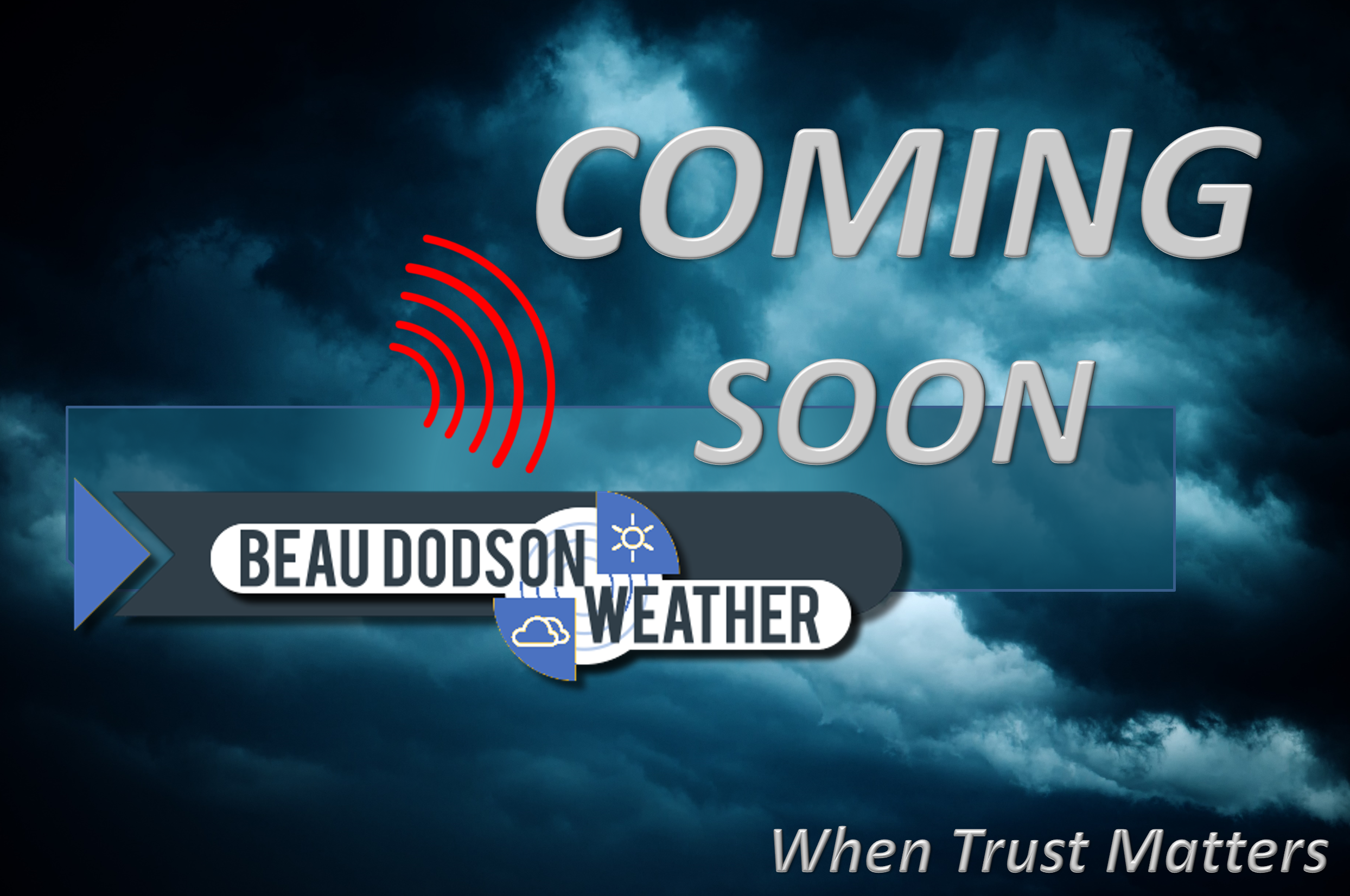 I am working on a few new items for us.
As always, I am grateful for all of you and the support you bring to my passion.
There was never a plan.
All of this started with a severe weather email list of ten or twenty people after the killer 2003 tornadoes. That grew to what you see today.
From that tornado, the Shadow Angel Foundation was born. We delivered hundreds of teddy bears to Pulaski, Massac, and Pope Counties. The "storm" bears went to Head Start, Kindergarten, and first graders. Included with the bears was a package of information for parents on how to talk to their child about tornadoes and severe weather.
We then worked with the Metropolis Planet on producing the Terror in the Night tornado book. The book was filled with personal accounts of that horrible night. Many people said the book helped bring closure.
Since then we have delivered thousands of teddy bears to Child Watch and Pasac. The counselors use the teddy bears to help the children feel safe.
Soon after that, the late Kent King (radio DJ and emergency manager) asked me to cover weather for McCracken County OEM/DES. I was COM 10 on the scanner feeds.
Ed Duff, with McCracken County Rescue, now utilizes my services during severe weather events along with two other local counties. They receive one on one attention during events.
That led me to Sue Henry with the American Red Cross where I was able to help during Hurricane Katrina and Rita. An experience that changed my life.
Around that time social media exploded onto the scene. My personal Facebook page quickly filled up with 5000 people. The limit Facebook allows for personal pages.
Facebook then started pages. I was able to make a page just for weather.
It was soon after that that I bought a portion of my family farm back. We built my house and the Weather Observatory.
Jason Darnall helped put together an amazing weather center. Many hours of work.
Then the Paducah Sun then asked me to do weather for them.
That led to the amazing team at Innovations Branding House. They produced my Weather Observatory website.
About four years ago there was a falling out with some local meteorologists. It bothered me so much that I almost quit weather.
The Paducah Sun even ran a story that I was taking a break from weather. I was taking a year off.
Several other local meteorologists then came to me and told me to brush it off. They encouraged me to start a weather business. They explained what I could bring to the local weather table.
Soon after that, as fate would have it, Preston Ursini and the Fire Horn team asked me to think about producing text messages during severe weather. That led to Weather Talk. That then led to the Weather Talk app.
Had it not been for that low point, I don't think Weather Talk would have ever come to be. Life is funny like that. Something bad turned into something good.
I often times tell people that I have the best Facebook friends, enthusiasts, and followers. It is rare that someone complains on the weather page.
Some of you have basically become like family to me. When severe weather strikes it becomes personal to both you and me.
Here is what we are going to bring you.
1. We are coming out with a major app update for subscribers. We plan on having radar in the app, as well as your usual app/text messages to the daily blog, video, and Facebook updates.
2. We are completely revamping the WeatherTalk website. Preston Ursini, from The Fire Horn, is working alongside Innovations Branding House to complete this task. The Fire Horn is who I partner with to make all of this work.
3. I am going to try and stick to a daily schedule. That way everyone knows when to expect an update. See the comment section.
4. Many of you have asked me to do Facebook Live video updates during winter storms and severe weather outbreaks. I have spent the last week learning how to use OBS studio software. This software will allow me to deliver you Facebook Live events. You will get your wish.
5. We are moving towards a flat subscription fee of $5 a month. Everyone that is paying $3 a month will be grandfathered in. If you want to voluntarily upgrade to the $5 plan then that would be great. We will roll this out when the new website is finished.
Right now we have a $3, $5, and $10 plan. The only difference is how many cell phone numbers you can add.
With the $5 a month plan we will let everyone have up to seven phone numbers. That should cover your family members. Sound good?
6. I have streamlined the digital media blog. That would be the talk.weathertalk.com site. You will find that is has been organized.
Remember, I work for you. I don't work for television or radio. I am your employee.
You have a personal meteorologist. And, as everyone knows, I put my heart and soul into this.
Subscribers will receive the following:
You may subscribe at www.beaudodsonweather.com
1. The app/text updates during tornado outbreaks and all other weather events.
2. Rapid-fire tornado app/text messages. I send out numerous updates as I track the tornado. Some of you can testify to these rapid-fire tornado messages.
3. Daily weather forecast sent to your app/text.
4. Link sent to the app/text to the daily blog and Facebook updates on non-severe weather days. Instead of waiting around for me to post a new Facebook thread you can receive it in your app/text.
5. Link sent to the app/text to the daily blog and Facebook updates on severe weather or winter storm days.
6. We are updating the weather map page on the website. That page will have thousands of daily weather maps for you to access.
7. I answer every email you send. I try to answer every private message you send to me.
8. We run three hour live feeds during severe weather where we attempt to answer as many questions as possible. Same for winter storms.
9. You receive access to special short and long-range video updates from the Bamwx team (who help me with daily videos).
10. You receive access to special short, long-range, and seasonal temperature and precipitation outlooks.
11. Your subscription fee helps six local charities (see comment section for more information).
Normal monthly out of pocket operating costs (see comment section) are around $2000.00.
The service I provide is unique. I don't believe there is anything else like it in the country. Not for this price and not for the volume of information you receive.
We hope to have the new app and website finished soon. Watch for announcements.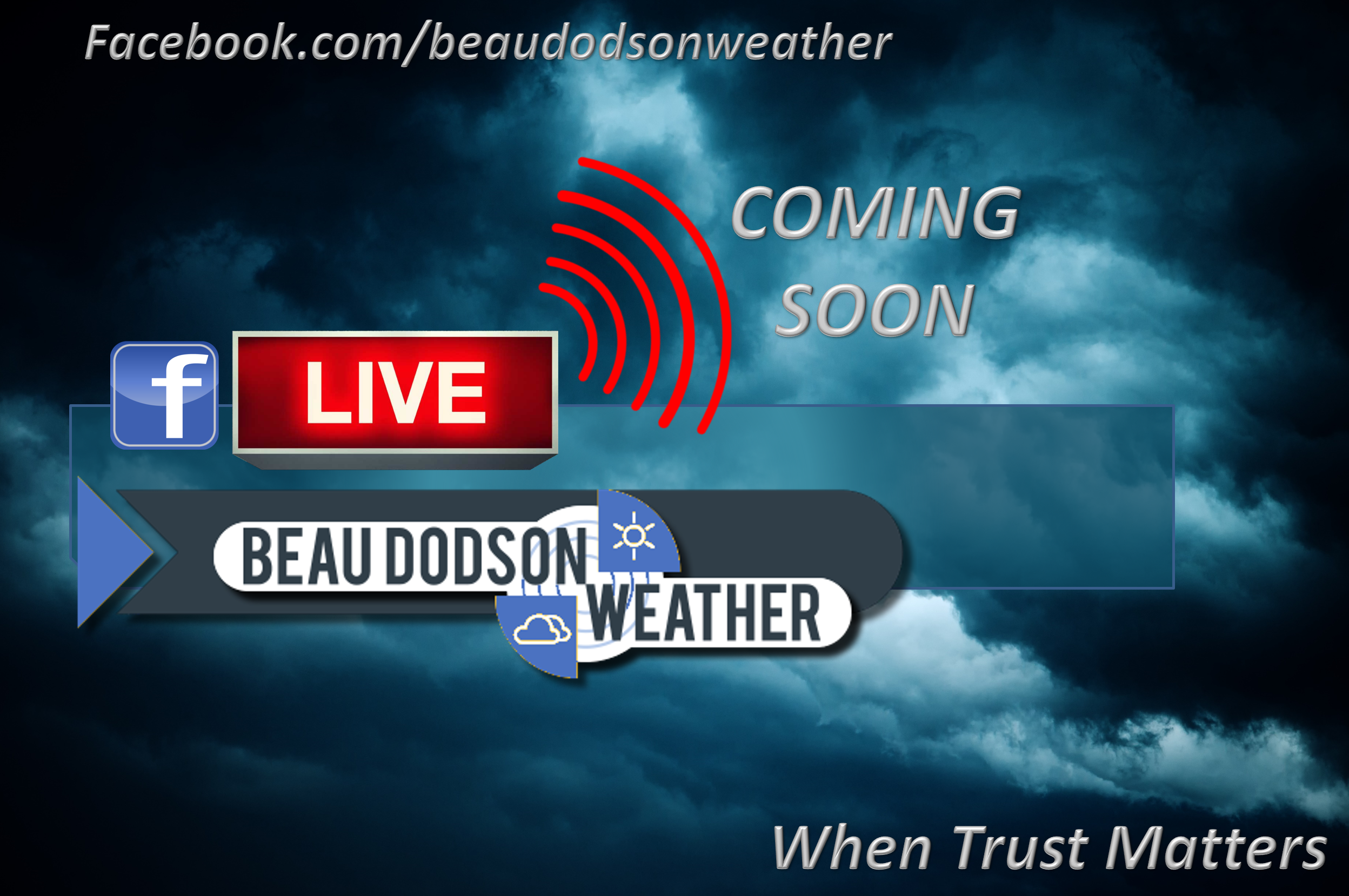 New schedule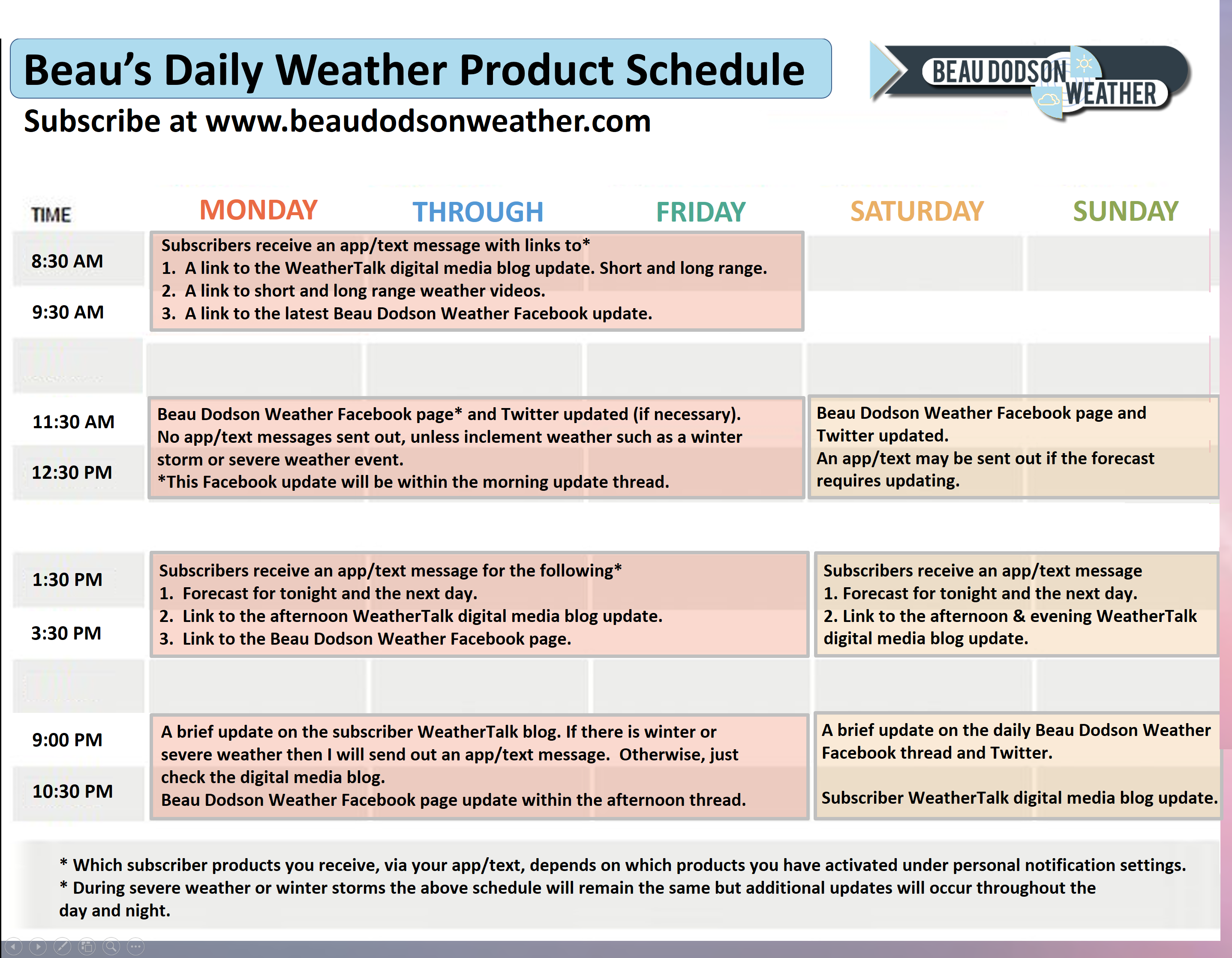 Example of some of my rapid-fire tornado app/text messages.
Make sure you have app/text notification ONE turned on.  This one is called WeatherOne.  You can make sure that is on by signing into your www.weathertalk.com account and clicking the personal notification settings tab.  Make sure WeatherOne is on (green).  Green is on.  Red is off.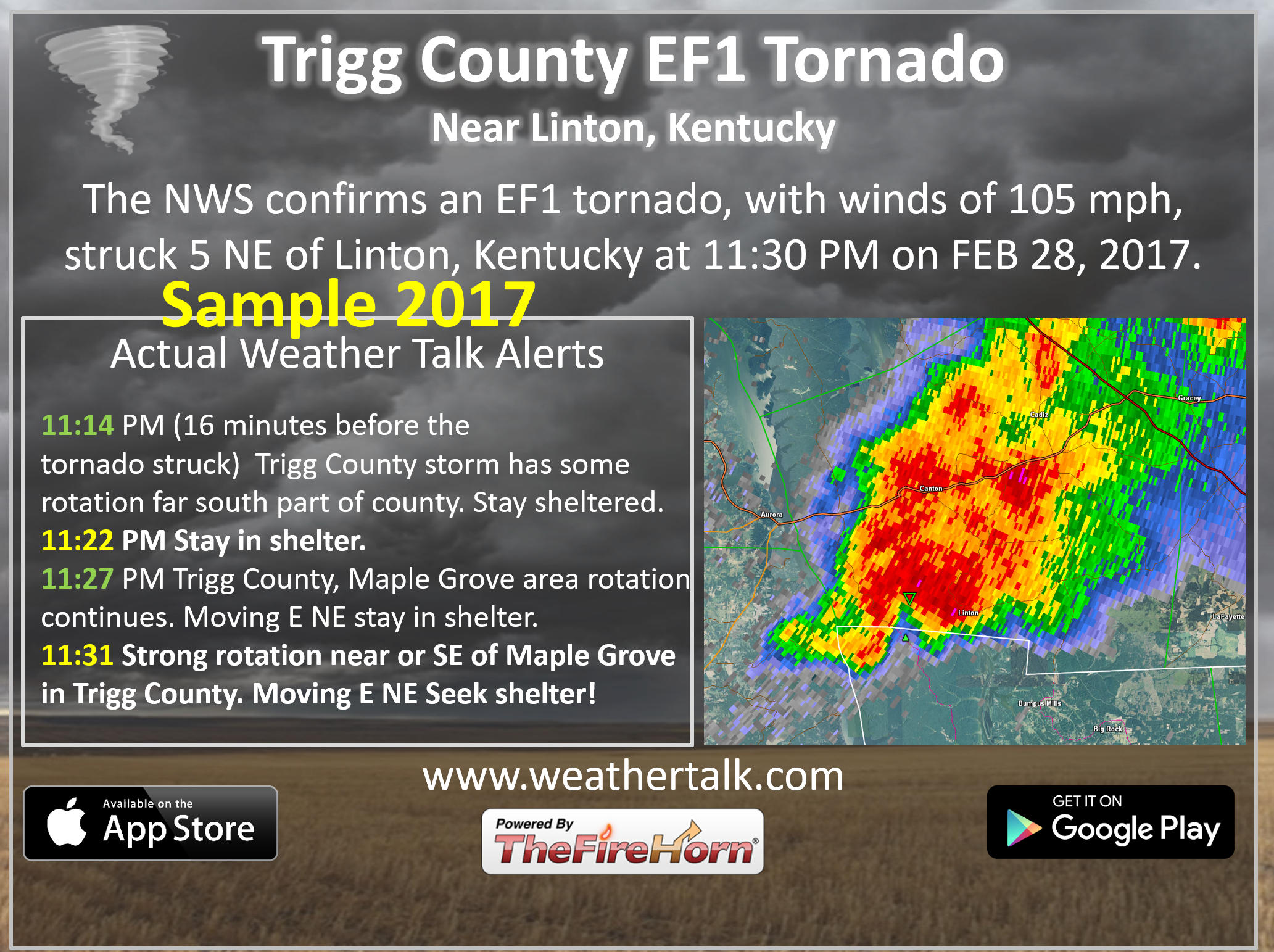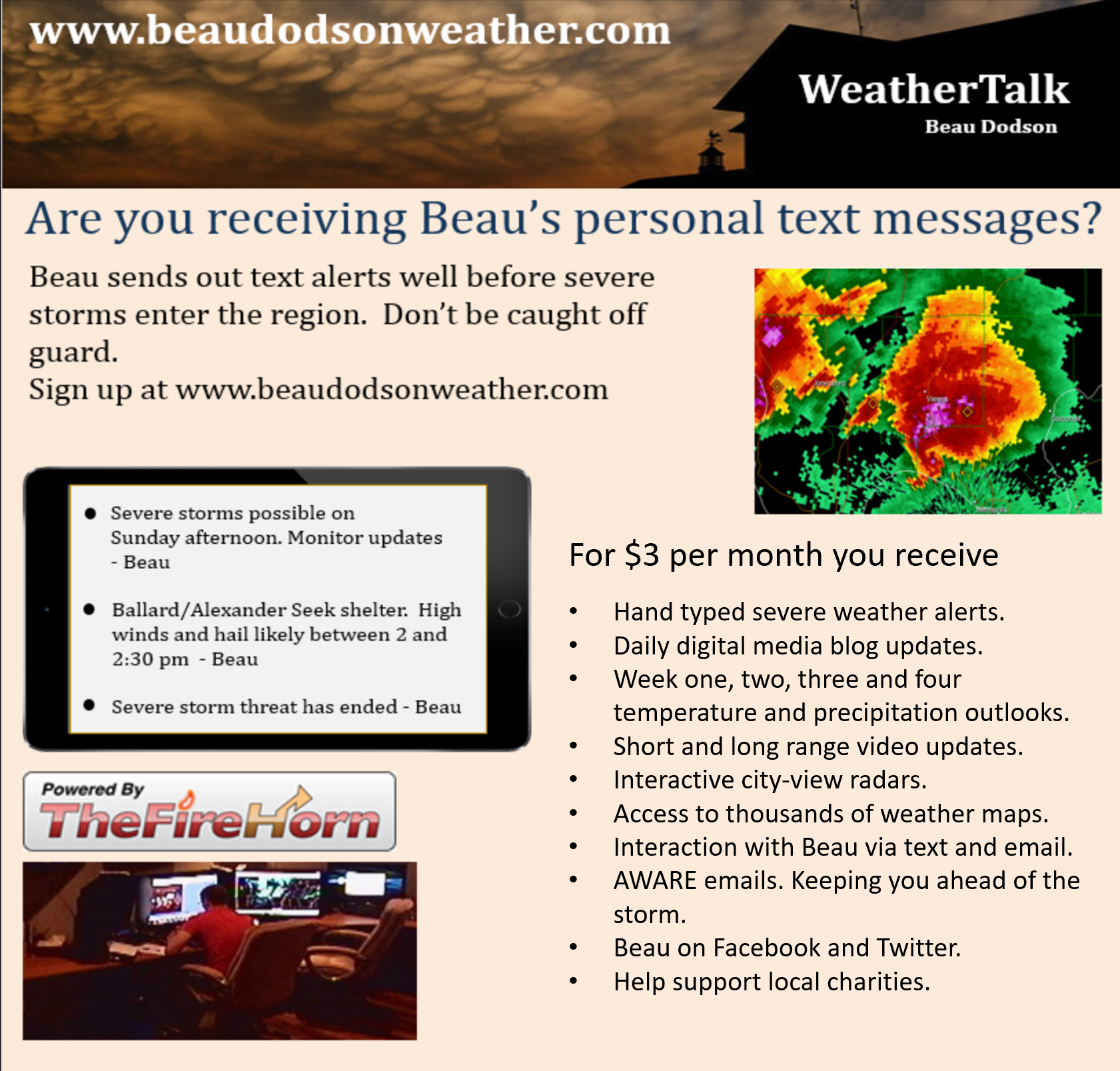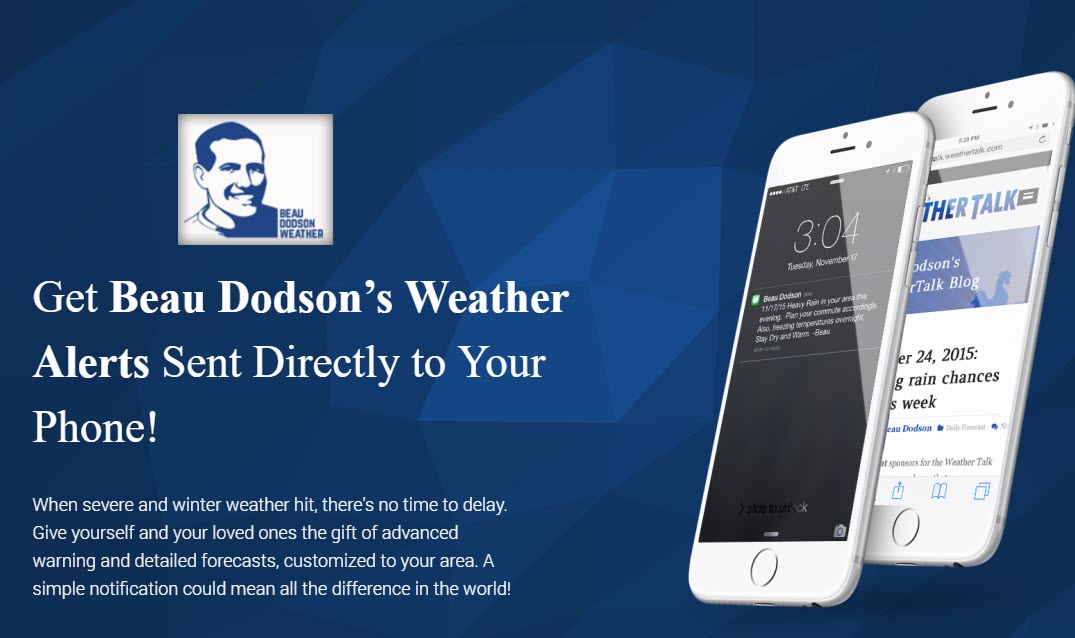 Some of our charity work can be viewed at
www.shadowangelfoundation.org
www.beaudodsonnews.com
www.justincroach.com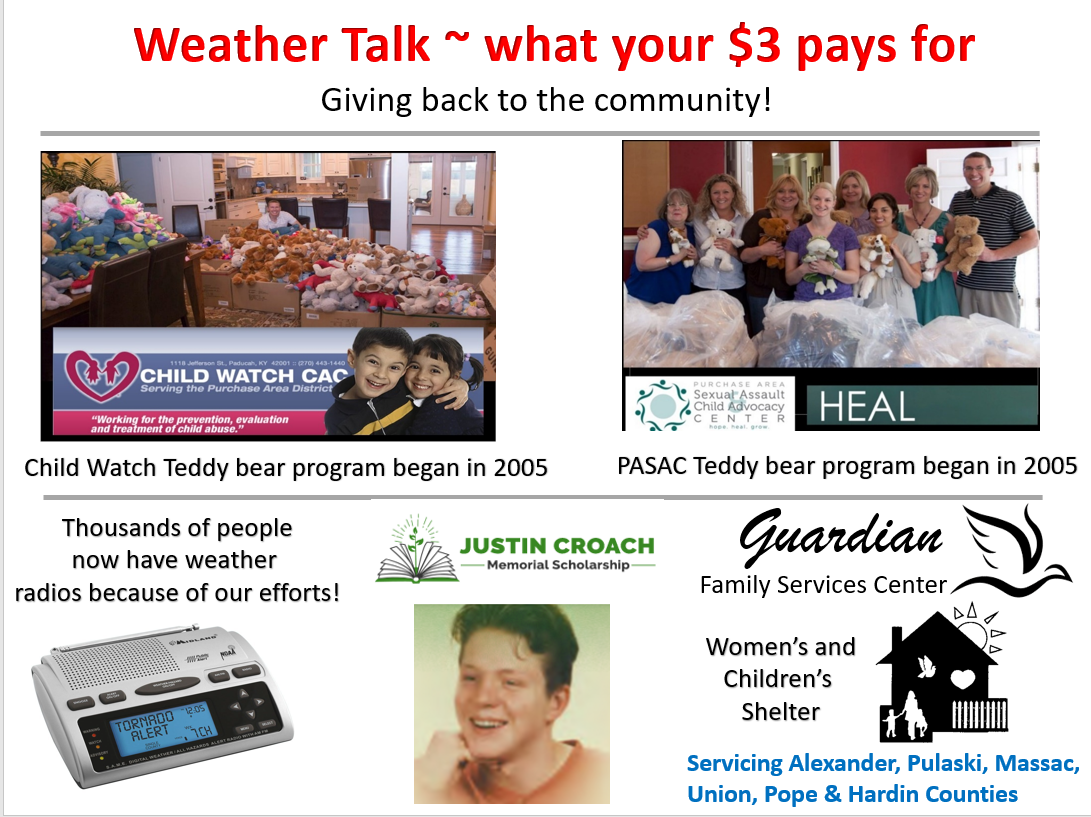 Your monthly subscription helps cover these out of pocket expenses.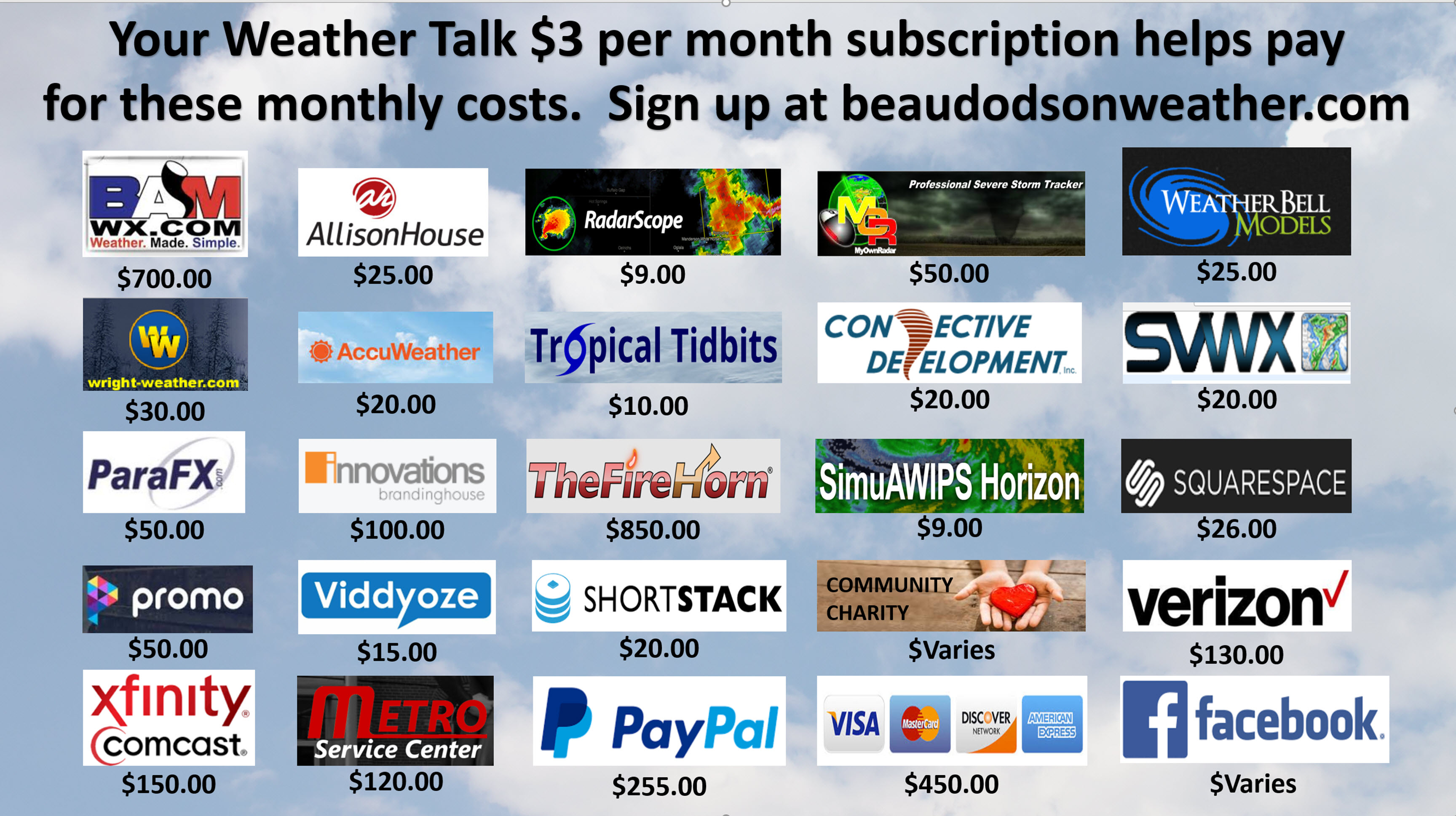 We encourage subscribers to use the Apple and Android app.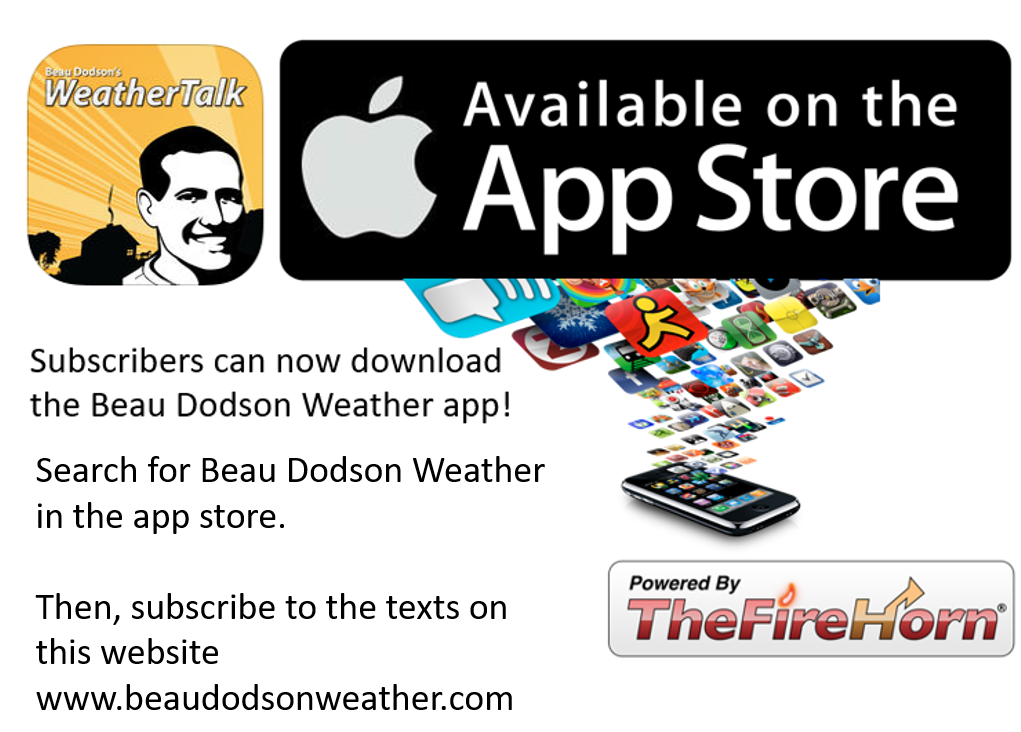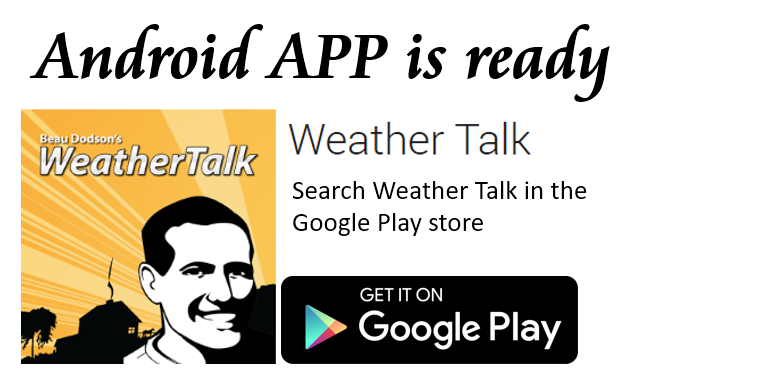 We also offer long range outlooks for farmers.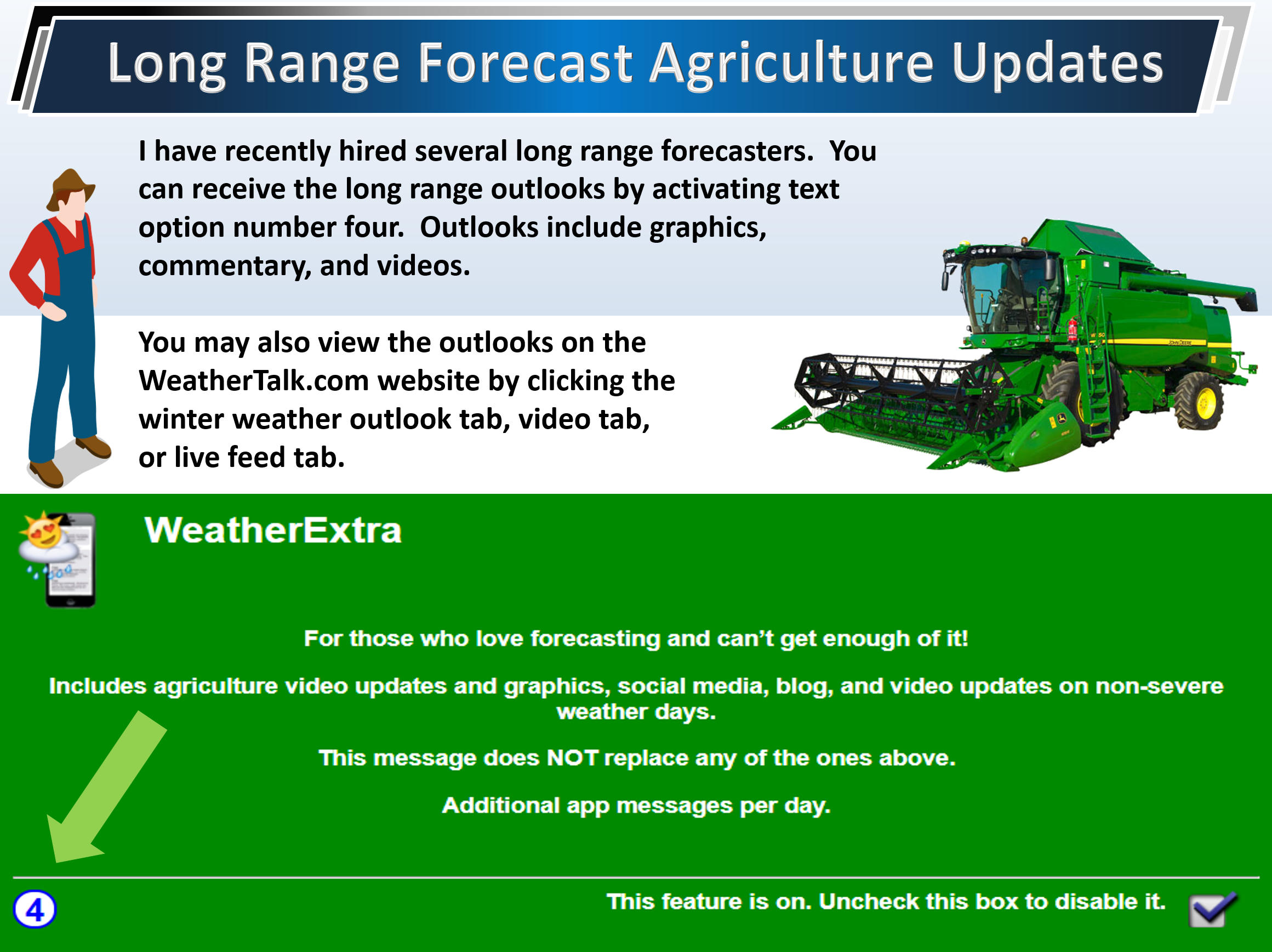 Want to receive my Facebook updates via a link sent directly to your app/text?  We offer that, as well!
Two options.  One for non-severe days and one for severe weather and winter storm days.  Make sure you choose the right one.
You can view these options under your Personal Notification Settings tab within www.weathertalk.com
Questions?  Email me at beaudodson@usawx.com